Presenting in English eBook features MP3 audio, PDF and online quizzes on essential English language and skills for making presentations in English.

These English for presentations lessons are also available in our English for Presentations eCourse App:
Download from the Apple App Store (iOS).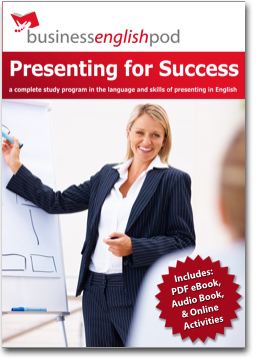 Introducing your presentation
Signposting your presentation
Describing visuals and charts
Talking about trends and rates of change
Interpreting trends – making predictions
Using your voice
Pausing and stress
Summarizing and finishing off
Handling the Q and A
Presenting a SWOT Analysis
eBook buyers and Members: click a link below to view and download files (right-click to save).
Presenting for Success (2nd Edition)

Title

Complete Set /ZIP
Introductions
Signposting
Charts & Trends 1
Charts & Trends 2
Charts & Trends 3
Voice Technique
Summarizing
Q & A 1
Q & A 2
SWOT Analysis 1
SWOT Analysis 2