The English for Meetings eBook features MP3 audio, PDF study notes and online quizzes on essential Business English skills for conducting and participating in meetings in English.

These lessons are also available in our English for Meetings eCourse App:
Download from the Apple App Store (iOS).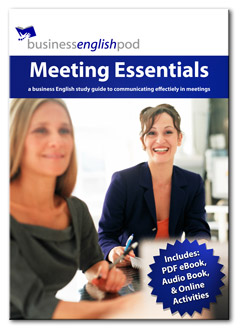 Expressing opinions in meetings
Agreeing
Disagreeing
Making suggestions
Accepting or rejecting suggestions
Clarifying what was said
Clarifying what was meant
Chairing a meeting – starting off
Chairing a meeting – managing the discussion
Interrupting and resisting interruption
Problem Solving Meetings
Finishing up and action points
Premium Members: click a link below to view and download files (right-click to save).
| | | | | |
| --- | --- | --- | --- | --- |
| Title | Transcripts | Podcasts | PhraseCasts | Online Quizzes |
| Complete Set/ZIP | | | | |
| Course Introduction | | | | |
| Expressing Opinions | | | | |
| Agreeing | | | | |
| Disagreeing | | | | |
| Suggestions | | | | |
| Accepting/Rejecting | | | | |
| Clarifying 1 | | | | |
| Clarifying 2 | | | | |
| Opening | | | | |
| Managing | | | | |
| Interrupting | | | | |
| Problem Solving 1 | | | | |
| Problem Solving 2 | | | | |
| Finishing | | | | |