İngilizce sunulması eBook features MP3 audio, PDF and online quizzes on essential English language and skills for making presentations in English.

These English for presentations lessons are also available in our Sunumlar için İngilizce eCourse Uygulaması:
Apple App Store'dan indirin (iOS).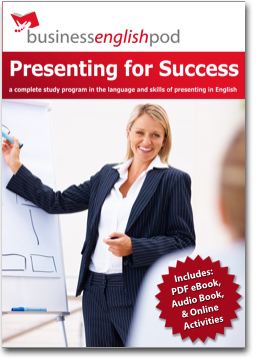 Sunumunuzu tanıtma
Sununuzu imzalama
Görselleri ve grafikleri tanımlama
Eğilimler ve değişim oranları hakkında konuşma
Trendleri yorumlama – tahminlerde bulunmak
Sesinizi kullanma
Duraklatma ve stres
Özetleme ve bitirme
Soru ve Cevapların Ele Alınması
SWOT Analizi Sunma
eBook buyers and Members: click a link below to view and download files (right-click to save).
Başarı için Sunum (2Baskı)

Başlık

Komple Set / ZIP
Tanıtımları
Yol işaretler
Grafikler & Trendler 1
Grafikler & Trendler 2
Grafikler & Trendler 3
Ses Tekniği
Özetleme
S & bir 1
S & bir 2
SWOT analizi 1
SWOT analizi 2